June 11 2018
A few days after finishing Great Bee (the first game I actually released), I went to a barbecue at my wife's family. Of course, I took my computer with the game on it. At that point, I had no idea what kind of feedback I would get. I just let them play the game.
The test started with my wife's little sister who is in primary school. It was before dinner. She played the game for a while and exclaimed: it's the best game in the world! Then she got interested in how i made the game. Since I made it with PICO-8, it was very easy to show how everything was working. She asked a lot of questions! Then, she started to tweak the game inside the editor, changing graphics and making the levels easier when she was not able to complete them in the first place.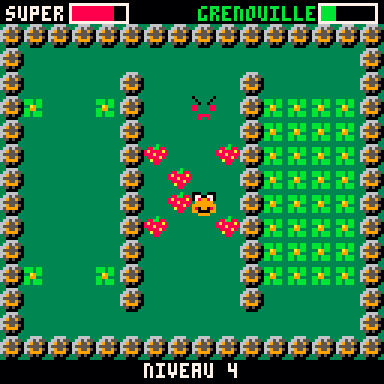 After the dinner, I let the young adults play. My wife's brother didn't stop playing before he finished the game. There were some epics moments with laughs, screams and cheers. I know that Great Bee isn't the best game ever. It was a small project and my goal was to finish a game to build self confidence for a bigger project. It did, and did more. I don't know where my passion of making games will lead me, but this night gave me something special: a mix of motivation, self-confidence, happiness, recognition and joy.
Now, I'm currently working on a bigger project, which will be a cooperative Roguelike for 2 players with unique mechanics, a curious theme and lot of humor. I will announce it in a few weeks.